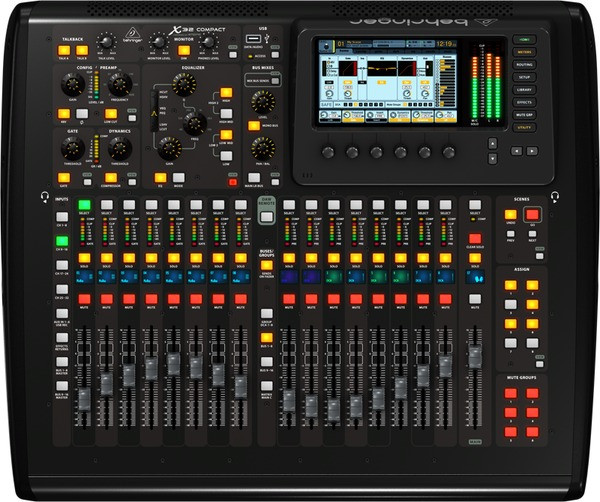 CHF 2'299.00 *
CHF 2'869.00 *
(19.87% gespart)
inkl. MwSt. zzgl. Versandkosten
Keine Versandinformationen vorhanden
Ever since the "dawn of digital" audio engineers the world over have had a love-hate...
mehr
Produktinformationen "Behringer X32"
Ever since the "dawn of digital" audio engineers the world over have had a love-hate relationship with their consoles. The new BEHRINGER X32 digital mixing console lets you focus on your event, instead of navigating a vast sea of knobs, buttons and menus like most other live digital mixers. X32 is intuitive and powerful with 40 processing channels and 25 mix buses, all equipped with serious signal processing (dynamics, EQ and inserts), which can be configured quickly to meet the demands of virtually any gig, large or small.
Ready for your input
Use any combination of the local 32 console mic inputs or the networked digital snake inputs on stage-their audiophile quality programmable preamps always ensure full control, purity and impeccable dynamics. The dedicated channel strip section puts 17 backlit buttons and 13 rotary controls with LED-collars right at your fingertips for nuanced adjustment of each channel's compressor, 4-band parametric EQ and much more. Each input and output channel strip features its own color backlit 128x64 graphic LCD, which provides vital channel information at-a-glance.
Virtual FX Rack
The onboard virtual FX Rack provides access to eight true-stereo, multi-effects processors (16 mono) including delay, chorus, dynamics-and it can run 4 production quality true-stereo reverbs concurrently with 8 channels of 31-band graphic equalization, all without the need for expensive, space-consuming external hardware.
High-count I/O options
I/O abounds with 32 high-end programmable mic preamps; 6 Aux Inputs on 1/4" TRS; 16 balanced XLR Outs, plus balanced Control Room outputs on both XLR and 1/4" TRS connectors. A single CAT5 cable from FOH to the stage can receive up to 48 channels of audio input-and deliver all bus outputs, along with 16 individual monitor feeds for BEHRINGER's brand new P16 personal monitoring system.
Vital information is just a click away
Thanks to the netbook-resolution, 800x480 high-contrast color TFT display, you are never more than one or two button presses away from any of X32's eight highly intuitive control screens. Once you select the desired function, dedicated rotary/push encoders allow you to set parameters and source I/O assignment, without the need to "drill down" through multiple layers of menus or page through a complex owner's manual.
Versatile signal and scene management
Signals can be assigned to eight DCA groups (Digitally Controlled Amplifier), which provides simultaneous group level control via dedicated 100 mm motorized faders. The audio engineer can communicate with the talent by means of the Talkback section's onboard mic or an external mic of their choosing. X32's scene management allows snapshots of high-level production mixes to be captured and recalled for future use (you can even save them to a USB stick). X32 even has a dedicated custom control section with user-definable knobs and buttons where you can create your own set of controls, making it easy to access frequently used functions "on-the-fly."
Bus and rear panel flexibility

X32 provides extensive output connectivity including 16 balanced XLR outputs, six balanced Line I/O on 1/4" TRS connectors; dual Phones outputs; Main LCR (Left, Center, Right) buses; 16 mix buses (also configurable as subgroups) with Inserts, 6-band parametric EQ and dynamics processing; plus six independent Matrix Mixes with Inserts, also with 6-band parametric EQ and dynamics processing.

The rear panel also sports two AES50* ports, each with Klark Teknik's rock-solid SuperMAC 48-channel I/O networking capability (for addressing a total of 96 inputs and outputs). Stereo digital output and MIDI are also supported, as well as ultra-low jitter, ultra-low latency communication between the X32 and digital snakes, remote stage boxes and outboard recording devices. A convenient top panel USB port is available for recording an uncompressed two-channel "board mix" straight to any standard USB thumb drive or for playing background music.
The Future is Here-Now!
System expansion and connectivity capabilities are provided via an integrated card slot, which allows you to add up to 32 channels of digital audio I/O by way of IEEE1394 FireWire, ADAT TOSLINK or USB. It will even support standalone 16-channel uncompressed multi-track recording to an attached USB drive-without requiring a computer!
Digital Mixing-Analog Price
The BEHRINGER X32 digital mixing console sets a new benchmark for live sound mixing along with unprecedented value. Never before has any manufacturer offered a full-featured digital mixing console with such large input and output channel count, comprehensive processing, flexible expansion options and an intuitive user interface-all at a price point that has the competition shaking in their boots!
Weiterführende Links zu "Behringer X32"
Bewertungen lesen, schreiben und diskutieren...
mehr
Kundenbewertungen für "Behringer X32"