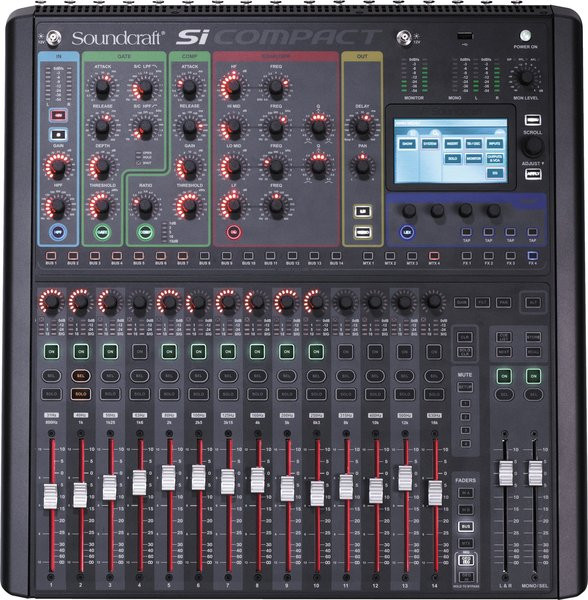 CHF 2'990.00 *
CHF 4'500.00 *
(33.56% gespart)
inkl. MwSt. zzgl. Versandkosten
Keine Versandinformationen vorhanden
Drawing on the heritage of Soundcraft's acclaimed Si Series digital live sound mixers, the Si...
mehr
Produktinformationen "Soundcraft Si Compact 16"
Drawing on the heritage of Soundcraft's acclaimed Si Series digital live sound mixers, the Si Compact packs powerful digital mixing facilities along with stunning Lexicon effects into a small footprint console. All this and more without compromising a powerful feature set.

The Si Compact 16 feature 16 recallable mic pre amps plus 4 stereo returns for a total of 24 inputs to mix; each input is 'fully equipped' with compressors, gates, parametric EQ, High Pass Filter and delay.

All Si Compact consoles have buses and output processing to match the versatility of the inputs, all mix and matrix buses feature a compressor and parametric EQ and graphic EQ always available on every one of the 25 mix buses.

To complement the channel processing Si Compact offer four Stereo Lexicon FX processors providing a wealth of sounds and user adjustable parameters.

Flexible onboard and expansion I/O options ensure the Si Compact integrates effortlessly with other system components; along with the 16 mic inputs there are two pairs of stereo analogue line in, AES in and out, 16 analogue line outputs, headphone monitor out and a 64x64 channel expansion card slot capable of utilising any of the Si series option cards that includes AES, AVIOM, CobraNet and MADI. The MADI card, as well as being an interface to multi-track recording systems enables linking the Si Compact to the Soundcraft/Studer stageboxes which extend the I/O power and flexibility; but all this power is nothing without control and here lies the core strength of the Si Compact; a comprehensive but 'simple to use' control surface.

As you would expect from any Soundcraft digital mixer the facilities are extensive and include legendary audio quality courtesy of EMMA Lite, the same DSP platform that has helped propel the Si Series to industry standard status; this is united with all the reliability, show management, naming of channels, storing & naming cues and other features that you would expect, but what really sets Si Compact apart from all others is the simplicity of operation...

- TOTEM - The One Touch Easy Mix; press a single key to mix to an AUX, FX or Matrix bus, the surface and monitoring instantly reconfigure to allow instant mixing to your chosen bus on the faders.

- BSS GEQ - With a BSS GEQ on every bus there is never any need to assign from a pool of resources and you will never 'run out' of processing.

- 1 Control = 1 Function - With each control dedicated to a given function there is never any 'layering' of controls or navigating through screens; this allows the Si Compact controls to be labeled on the surface just as they would have been on an analogue mixer.

- Global Mode Controls - A row of rotary controls above each fader assignable at the touch of a button to be GAIN, PAN or HPF for all of the inputs allowing instant access to the core functions.

- Soundcraft FaderGlow - Illuminates the fader slots according to function with clearly defined colours for FX, Stereo, Linked Mono, GEQ, POST Fade Aux, PRE Fade Aux; you'll never be lost again!

- Instant Access Keys - Dedicated keys on the front panel for STORE, RECALL, NEXT, MUTE 1-4, TAP TEMPO and more negate the need to dive into screen & context menus.

- Function Focus - Whenever a control is moved or SELect key pressed the screen displays information about the channel identifying the absolute value of the controls and the channel name, number etc
Weiterführende Links zu "Soundcraft Si Compact 16"
Bewertungen lesen, schreiben und diskutieren...
mehr
Kundenbewertungen für "Soundcraft Si Compact 16"